Mobile AM, FM Transmission system
System Composition
AM 10KW Broadcasting Transmitter
TX Antenna Equipment
Antenna Matching Unit
Dummy Load
Carrier & Modulation Monitor Equipment
Receiving Link (FM,HF) & RX Antenna Equipment
Audio Equipment
General Description
This emergency mobile transmission system is designed to provide continuous alternative transmission services even in emergency, such as in the event of unexpected flooding or fire of transmission station and of the failures from antennae and power supply etc.
AM 10KW Broadcasting Transmitter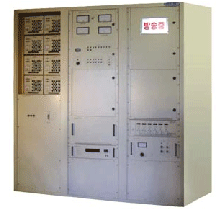 System Composition
AM Broadcasting Transmitter
TX Antenna & Impedance Matching Unit
Dummy Load & U-Link Panel
Carrier & Modulation Monitor Equipment
FM Receiver & Antenna Master (Antenna Pole)
HF Receiver Equipment
Audio Mixer & PIC (Program Input Changer)
CD & Cassette Deck
Audio Equipment
Power Distributer
General
The transmitter covers medium bands from 527 KHz to 1606 KHz, and 120 preset channels in 9 KHz Frequency Step. By virtue of Band Amplifier as well as Auto Tuning Circuit, impedance matching is to be made to transmit within 30 seconds by One-Touch hitting.
Power Amplifier is All Solid State composed of MOS-FET, and combines 8 units of 1.25kW Output Power Module to make 10kW output power.
And even in case of unexpected partial failure in Power Modules, continuous transmission service is possible at low output power level. Therefore, we can replace failed Power Module with new one or repair it in operation.
PWM (Pulse Width Modulator) Type Modulation Circuit ensures positive peak program modulation to 125% of nominal modulation and less than 1% Distortion, less than 60 dB Signal to Noise level. Thus Overall Efficiency of the Transmitter ensures at least 75% and above transmission capacity at all modulation levels.
Designed for AM Stereo
Both main and standby Exiter sections provide selections for monaural operation by internal PLL Synthesized Oscillator of AM Stereo operation in conjunction with any of the currently available AM Stereo Exciters.
The very low IQM, superior transparency and freedom from the effects of aging or drift, assure the broadcater of truly superior AM Stereo performance.
Main and Standby Exciter
Two independent Exciter sections mounted in a single drawer may be selected via local or remote control.
Each unit contains its own PLL Synthesized oscillator and control circuitry for providing RF drive and Modulator drive with signals to the Power Amplifier/Modulator sections.
The Exciter slides forward to provide easy access to Power level, Modulation level and selectable Audio filter controls.
Main and Standby Exciter
Once you change the frequency, the lmpedance Mating and Antenna Tuning Circuit automatically go to the set point by step motor. At the same time, it displays the setting point by LED display in each channel.
By virtue of the step motor control divided into two hundred rounds, accurate tuning is to be realized.
On top of this, motor control is made by " CPU Control". And because of this, it controls the speed of the motor appropriately and it prevents mechanical parts from abrasion.
Specifications
1. Power
10KW (Five preset power levels between lKW to 11KW)
2. RF Frequency Range
527 Khz to 1606Khz
3. Preset Channels
120 Channel (9KHz Step)
4. Auto Tuning Time
Within 30 seconds T
5. Frequency Stability
less than ±2Hz (PLL Synthesizer Oscillator)
6. RF Harmonic and Spurious
less than -80dB
7. Carrier Shift
less than 1%
8. Power input
220/380V.AC ±10% 3ø.50/60Hz
9. Power Consumption
13.3KW at 0% Modulation
20KW at 100% Modulation
10. Overall Efficiency
Better than 75%
11. Power Factor
98% typical
12. Ambient Temperature
-10℃ to +50℃
13. Humidity Range
0 to 95%
14. Size
1702(W) x 1870(H) x 800(D)
15. Weight
600kg
Modulation Specifications
| | |
| --- | --- |
| 1. Type of Modulator | PWM (Pulse Width Modulator) |
| 2. Modulation Capability | 125% positive peak modulation |
| 3. Audio Input | 600 ohm Balance |
| 4. Audio Input level | 0 to +12dBm for 100% modulation |
| 5. Audio Frequency Response | ±0.5dB (at 30Hz to 10KHZ) |
| 6. Audio Harmonic Distortion | less than 1% (at 30Hz to 10KHz) at 95% modulation |
| 7. Audio Intermodulation Distortion | less than 1%(at 60Hz to 7KHZ)at 4:1 radio 85% modulation |
| 8. Hum and Noise | 60dB (at 100% modulation) |
| 9. AM Stereo separation | 40dB typical (below 95% modulation) |